~ I'm delighted to work with East Lindsey District Council for this post, our stay was gifted but (as always) all opinions are my own ~
After much deliberation about holidays at the beginning of the year, this year has turned into the year of the mini break, the 'staycation' and the long weekends. Previously it's all been about the big holidays and jetting off somewhere once a year, but I've found that since having children, these shorter breaks are a much less stressful way of having a break and enjoying some time away from home. This year has seen us visit Cornwall, London and Guernsey so far, and next to add to the list is the Lincolnshire Wolds. A little while ago I was contacted by East Lindsey District Council to see if we would like to spend some time exploring the hidden gem that is the Lincolnshire Wolds – of course I said yes so here we are! Myself, my mum and the kids had a fantastic stay in the Wolds at the end of August and I'm so excited to tell you all about it.
Day One | The Journey & Our Cottage
We are around a five hour drive from Lincolnshire so we set off bright and early from Southampton. We had a route planned out and knew we would have to make stops for the kids along the way. The thing we hadn't factored in for was that I would unfortunately catch a stomach bug that day and spend the majority of the journey being sick. I'm not going to dwell on that too much in this post, it was bad timing and a very rough car ride, but I didn't want it to set the tone for the whole trip. When we arrived at our beautiful cottage, the journey became worth it after all. Set in the gorgeous rolling Lincolnshire countryside, Little Walk Cottage was the perfect base for our stay. All on one level, it was perfect for the kids to explore as we didn't have any stairs to worry about. There was one small set of steps leading down to a beautiful conservatory but they had a stair gate so that wasn't an issue either.
The whole cottage was stunning; exposed dark wooden beams, farmhouse latched doors and just the most beautiful soft and cosy aesthetic decor and furnishings. The kitchen facilities were perfect for our needs and so after a quick dinner, it was straight to bed for us all. That night we actually had an incredible thunderstorm (I love a thunderstorm) and I couldn't think of a cosier place to listen to the rain and watch the lightening. The kids slept incredibly well that first night – testament to the extremely comfy beds! – which was I was very thankful for as I still wasn't exactly a picture of good health by this point.
Day Two | Rushmoor Farm Park & Louth
We had kindly been set up with an itinerary for our stay in the Wolds which was really lovely as it took the pressure off us having to decide what we wanted to do everyday. It's definitely made me think that I would like to do a bit more planning for our future holidays so that we have activities lined up in advance – I'm really not very organised so we shall just have to wait and see how that goes! First up on the itinerary was a trip to Rushmoor Farm Park & Falconry Centre which we were all very excited about. Darcie loves anything to do with animals and Ernie just loves being out and about so I knew it would be a hit! I have to say it was one of my favourite farms we have ever visited, mainly because of how relaxed it all was. At the main entrance you could buy animal food and we were then able to go around and feed the animals at our own pace, this was a nice change to a lot of places where the feeding times are set and if you're not careful you can easily miss the opportunity. Darcie was in her element feeding all of the animals, particularly the goats!
Another lovely thing about Rushmoor Park was that we could go and handle the small animals at any time. Again, at a lot of farms we go to animal handling will be a one off occurrence and can therefore be quite busy. This was a much more relaxed way for Darcie to get to hold two rabbits, two guinea pigs and even a little mouse. Saving the best till last, Darcie surprised me by wanting to take part in the pony rides! Although she's a huge animal lover, she sometimes prefers to keep her distance to bigger animals so when she said she would like to have a go on the pony I was really pleasantly surprised that she wasn't afraid. She absolutely loved it and it has definitely implanted the idea in my head of her learning to ride horses in the future (I might just need to win the lottery first!). The other main part to Rushmoor is their falconry centre and all of their wonderful and eclectic adopted and rescued birds. We watched one of the displays that are held regularly throughout the day and it was really amazing to see such a beautiful owl up close. Children under 2 are free at Rushmoor and everyone else is £7.95 which I think is amazing value for everything that is included throughout the day.
After our morning at Rushmoor we headed towards Hubbard Hills. Driving through Lincolnshire was so incredibly beautiful, there are fields and farmland as far as the eye can see, rolling hills and quaint villages. It was so peaceful – the perfect place for a break (even with two noisy children!). We parked up at Hubbard Hills and started to walk towards Louth which is a lovely market town and home to The Cheese Shop, made famous by The Hairy Bikers. Before we get to Louth though, I have to tell you about the walk that took us there. You start by walking along a river which is clearly a popular day out with the locals. There were so many children playing in and out of the river and families having picnics on the bank too. I wish we had somewhere like that close to us as it was the sort of place I can imagine bringing the kids to everyday and just letting them run wild. We carried on walking down to Louth, through fields and eventually into the pretty market town.
The walk was just the right length for little legs, she had a piggy back with Granny on the way back but that was only really because we had had such a busy morning at the farm too. Louth was lovely to explore for the afternoon, we ate ice creams (I didn't, I was still suffering) and wandered around some of the shops. Darcie fell in love with an original Woody toy in a vintage shop, eventually I managed to coax her out of the shop with the promise that we would tell Santa that she would like to have one – am I the only one using that yet?!
Day Three | Seal Sanctuary & Chapel Six Marshes Beach
After another surprisingly good night sleep from the kids, we woke up bright and early (is there any other way with children?!), had some breakfast and set out for the day. On the itinerary we had Maplethorpe Seal Sanctuary & Wildlife Centre and also a trip to the beach, we decided to visit the wildlife centre first while the kids had the most energy. The Centre was right on the coast and so the drive there was especially beautiful and set to the at first endearing and later somewhat irritating soundtrack of Darcie asking 'mummy, are we there yet?'. We arrived at the Seal Sanctuary just as the seals were about to be fed so we headed straight on over to watch. The presentation that they gave while feeding the seals was really interesting and it was great to hear the stories of the individual seals and how they had all ended up at the sanctuary. Both the children were totally mesmerised watching them jump about catching the fish.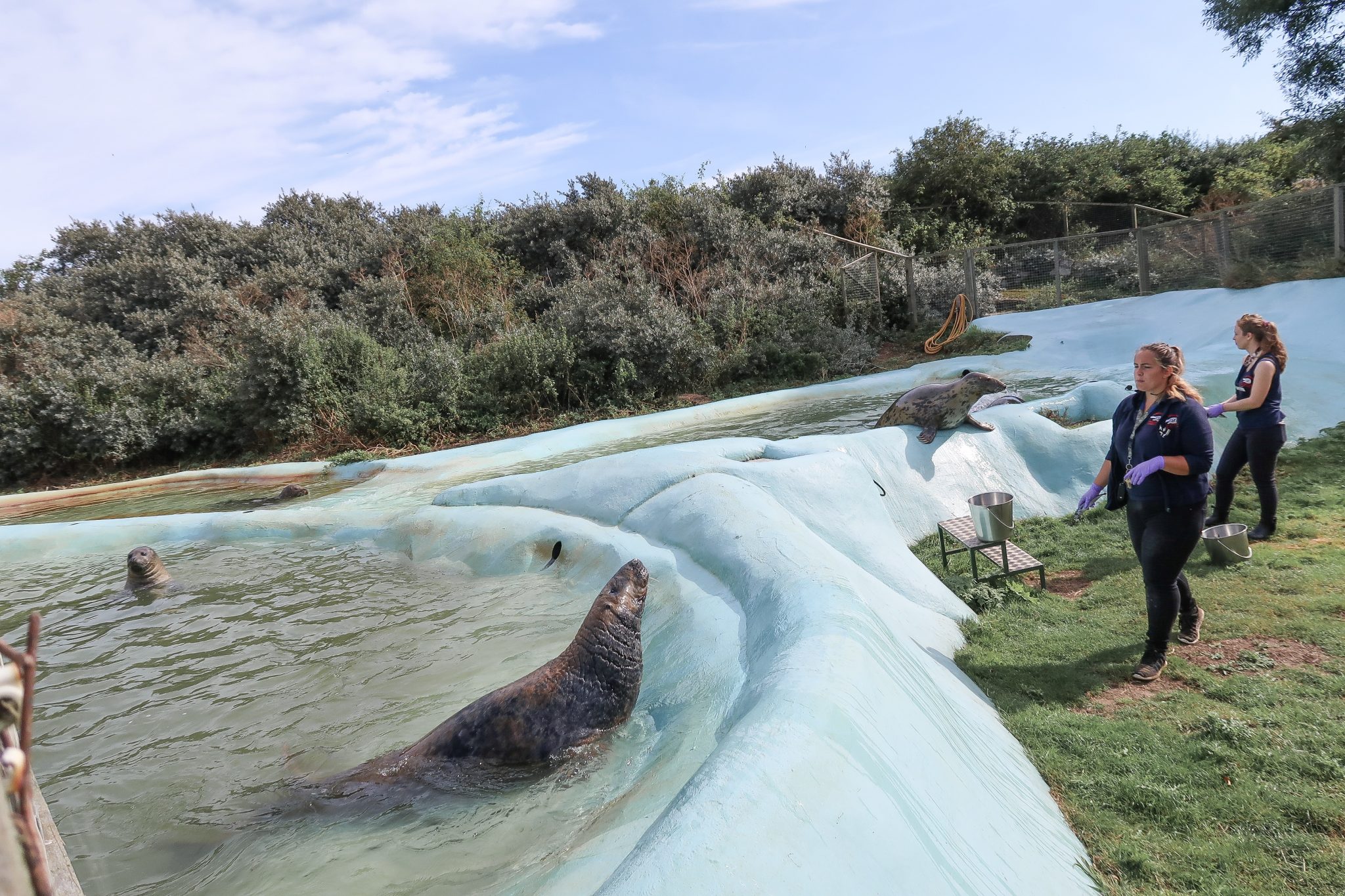 After this we wandered around the rest of the wildlife centre where they had such an amazing array of animals. Everything from farm animals like goats and a pony to monkeys and exotic birds. It was a lovely place to spend a few hours exploring and there was a playground too to burn off all that extra toddler energy – I honestly don't know where they get it from! We grabbed some lunch at the cafe which was delicious before heading off to find the beach.
We drove along the coast to a place called Chapel Six Marshes that was recommended on our trusty itinerary that had a gorgeous sandy beach. There was also an observatory building, sound tower and cafe but after our busy morning we were ready just to spend some time on the beach. While we were there some horses were being ridden along the beach too which made for great toddler entertainment. Ernie enjoyed playing in the sand but wasn't a huge fan of the water, whereas Darcie just wanted to keep running in and out. She was quite concerned when Granny went for a swim in the sea though, that was one step to far for her to go along with!
It was a beautiful beach but when the weather turned a bit chillier and Ernie had had enough, it was time for us to go back to our lovely cottage for our final night. It was so wonderful being able to let the kids run and crawl all around the cottage and fields outside and there was even a little climbing frame and swing for them to play on too. The terrace area overlooks a lake in the distance and if I had of been feeling less sick it would have been the perfect place to sit and enjoy a glass of wine in the evening.
Day 4 | Home Time
We were sad to have to leave on the Friday. I was just starting to recover from my sickness bug which was a relief at the prospect of a day in the car but also such a shame that it was now time to go home. That morning Ernie woke up at around 5am and just wouldn't go back to sleep, normally I would care more but it was so lovely watching the sunrise over the peaceful Lincolnshire countryside. Before we left we went for a little wander around the farm, we walked down to where the cows were having their breakfast and chatted to the farmer for a while too. Darcie was just in her element being outside and learning so much about the world around her. Then it was time to pack up and settle into our long car ride home – which thankfully involved no vomit whatsoever!
Lincolnshire As A Holiday Destination
Overall I couldn't recommend Lincolnshire more as a holiday destination. It truly is a hidden gem and somewhere that to be honest would probably not have occurred to me to visit. Hopefully this post might encourage some of you to look into it for your next mini break because it truly is a lovely part of the country to spend some time. My only regret is that we didn't stay longer as we kept seeing more things that we would have loved to have done. I'm sure we barely scratched the surface of what Lincolnshire has to offer and I would love to go back one day and explore more of the quaint villages and go for some longer hikes around the Wolds.
If you are planning a trip to Lincolnshire then you should definitely consider Thorganby Hall Lettings for your accommodation, they were so lovely and the cottage we stayed in was just beautiful. I had never done a self catering holiday with the kids before and I'm a total convert now. It was such a relaxed way of doing the holiday and meant we could totally do things at our own pace and not have to worry about the children disturbing anyone else early in the morning or late at night.
Now I just need to plan our next trip! Where's your favourite hidden UK gem?